SIGG – quintessential utility
The history of SIGG Switzerland Bottles AG began in 1908, when metalworking specialist Ferdinand Sigg founded a factory for aluminium products. His love of metal and his conviction that aluminium was the material of the future brought success – the company grew and expanded rapidly.
Over the years, it successfully conquered one new market after another with new ideas. 50 years later, the range of aluminium household goods already comprised well over 10,000 products. In the 1950s and 1960s, it was impossible to imagine a Swiss household without SIGG's aluminium utensils. From salad colanders and milk saucepans to bakeware, storage tins and egg slicers, and from laundry humidifiers to bicycle chain guards: Sigg products permeated everyday life in Switzerland.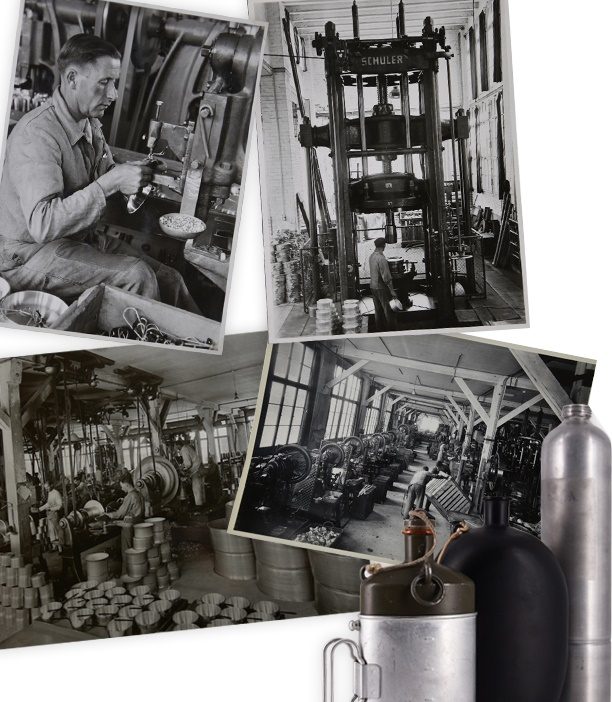 The SIGG bottle found its way into the company's range of household goods quite by chance. The production of pots and pans generates large quantities of waste in the form of aluminium offcuts. During the war years, when resources were scarce, SIGG was looking for a good way to use this valuable raw material and came up with a solution: it developed a bottle.
The story behind today's SIGG Bottle is not what most people imagine: its forerunner was not the 1920s water bottle, but a hot-water bottle. Its shape was later adopted in broad outline by the classic traveller's bottle, which soon came to be widely used and is still regarded as the quintessential reusable aluminium drinking bottle. The original Swiss bottle is an example of world-renowned design and production performance. A functional product became a desirable fashion accessory and a collector's item that can now even be seen in New York's Museum of Modern Art.
Quality and perfection paired with environmental awareness
In the production of its bottles, SIGG's overriding objective is to minimize its environmental impact. Innovative solutions have enabled the company to reduce its ecological footprint more and more. 99 percent of what little waste is generated by the production process is recycled and even the water used to clean the bottles is collected and treated in a closed system. What's more, from 2022 onward, production of the entire collection of aluminium bottles will become CO2-neutral. SIGG also supports organizations such as One Tree Planted, Water is Life and Sophia for Children, which share its vision of a fairer and greener world.
Aluminium pioneer
SIGG has been producing high-quality, reliable and sustainable drinking bottles for more than 90 years. The focus of the company's efforts today and its goal for the future is to push back against the use of disposable plastic. Stylish aesthetics help avoid disposable and plastic bottles: March 2022 will see SIGG launch a new line of iconic traveller's bottles made of 100% recycled aluminium and sporting tops based on renewable materials. The "MyPlanet" collection is another step towards sustainable materials and environmentally friendly design.